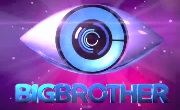 It is official! Big Brother returns next year for a third season on Channel 9. We think this is a good opportunity to highlight what Channel 9 are doing right and where they need to improve between now and the launch of Big Brother 2014.
The Housemates
There is no denying that a good housemate balance can make or break a series. But when many housemates have had previous media or modelling exposure, you have to wonder whether there is any point in auditioning if you don't fit this mould. In past series, housemate favourites like BB03's Regina "Reggie" Bird (now Sorenson) was a fish and chip shop part-owner with her former husband while BB01's Sarah-Marie Fedele managed a Perth strip club. Neither of these two housemates entered with prior media experience – so there was no holding back as they had nothing to lose.
With so many 2013 housemates having StarNow profiles, we'd like to see auditionees shown the door if they happen to have one. After all, Big Brother is not a modelling contest or acting opportunity. Although, you'd think it was with intruder Justynn Harcourt told to play a 'bearded lumberjack' character.
The Weekly Schedule
Scheduling of Big Brother 2013 was a major problem due to a number of factors. The lack of any weekend daily show due to Nine's decision to air Australia's Got Talent at the same time of year as Big Brother often left large gaps in the coverage of Friday, Saturday & Sunday – especially prior to the scheduling shake up which moved evictions from Monday to Wednesday.
But that's not all – the next scheduling problem is inconsistency. This year's Big Brother saw several changes to the weekly schedule as the series went on, with one example being Showdown lasting just three weeks as a dedicated show.
Showdown was Nine's attempt at a Friday Night Live, but Showdown missed the mark. The show wasn't live – instead filmed on Friday Night while Nine aired Friday Night Football. The hosting was subpar with little connection between Shelley Craft and commentators Mike Goldman and Michael Beveridge who themselves seemed to be presenting from the dark corridors of Dreamworld somewhere and not on the main set.
Weekly Schedule – Version 1
| Time Period | Monday | Tuesday | Wednesday | Thursday | Friday | Saturday | Sunday |
| --- | --- | --- | --- | --- | --- | --- | --- |
| 6:30-7:00 | – | – | – | – | – | Showdown | – |
| 7:00-7:30 | Eviction | Nominations | Daily Show | Daily Show | Daily Show | Showdown | – |
| 7:30-8:00 | Eviction | Nominations | Daily Show | Daily Show | – | – | – |
| 8:00-8:30 | Eviction | Nominations | Confidential | Daily Show | – | – | – |
Weekly Schedule – Version 2
A late night once-weekly show dubbed Late Night Feast made its debut on Tuesdays not long after Showdown's Saturday axing, but it too suffered the axe in the next round of changes. The verdict of Late Night Feast was generally good, not great, due to the more mature content, while welcomed, being manufactured and forced.
Weekly Schedule – Version 3
The final round of changes involved bumping the aforementioned Monday evictions to Wednesday and Tuesday nominations to Thursday. Confidential was also dropped.
| Time Period | Monday | Tuesday | Wednesday | Thursday | Friday | Saturday | Sunday |
| --- | --- | --- | --- | --- | --- | --- | --- |
| 7:00-7:30 | Daily Show | Daily Show | Eviction | Nominations | Daily Show | – | – |
| 7:30-8:00 | Daily Show | Daily Show | Eviction | Nominations | – | – | – |
| 8:00-8:30 | Daily Show | – | Eviction | – | – | – | – |
How would we schedule Big Brother?
Big Brother thrives on live content – this is what makes it stand above all over reality shows that are often filmed weeks or months in advance. It is important that a good consistent weekly schedule plays out over the whole series. One-off specials aside, on-going schedule changes only make it seem as though Channel 9 management are not confident with Big Brother.
| Time Period | Monday | Tuesday | Wednesday | Thursday | Friday | Saturday | Sunday |
| --- | --- | --- | --- | --- | --- | --- | --- |
| 6:30-7:00 | – | – | – | – | – | – | Daily Show |
| 7:00-7:30 |  – |  – |  – |  – |  – | – | Daily Show |
| 7:30-8:00 | Daily Show | Daily Show | Daily Show | Daily Show | Daily Show | – | Eviction |
| 8:00-8:30 | Nominations | Daily Show | Daily Show | Daily Show | – | – | Eviction |
| 8:30-9:00 | Nominations | – | Confidential | – | – | – | – |
| 9:00-9:30 | – | – | – | – | – | – | – |
| 9:30-10:00 | – | – | – | – | – | – | – |
| 10:00-10:30 | – | – | – | – | – | – | – |
| 11:00-11:30 | – | BB Live | – | BB Live | – | – | BB Live |
| 11:30-12:00 | – | BB Live | – | BB Live | – | – | BB Live |
In our suggested 2014 schedule, daily shows on Sunday & Monday would return to the old format of a prepackaged show without a live crowd or Sonia hosting, with the live show starting immediately after. Friday's daily show remains as 30 minutes due to rugby commitments and the anti-siphoning laws. The weekday episodes would move back by 30 minutes to 7:30, allowing for a rumoured expansion of Nine News to 1 hour, ultimately pushing A Current Affair to 7pm.
Whilst a return to weeknightly Uplate episodes is what many Big Brother fans want, we're going easy with only thrice-weekly episodes as a minimum, but they are scheduled earlier to avoid showing footage of sleeping housemates.
Additional programming such as the aforementioned "BB Live" could possibly utilise GO!, one of Nine's multichannels. Channel 9 may be hesitant to do this after axing a GO! exclusive daily show after just one episode in 2012, but by the time 2014 rolls around analogue TV will be switched off all over the country.
The Twists
Nominations Chamber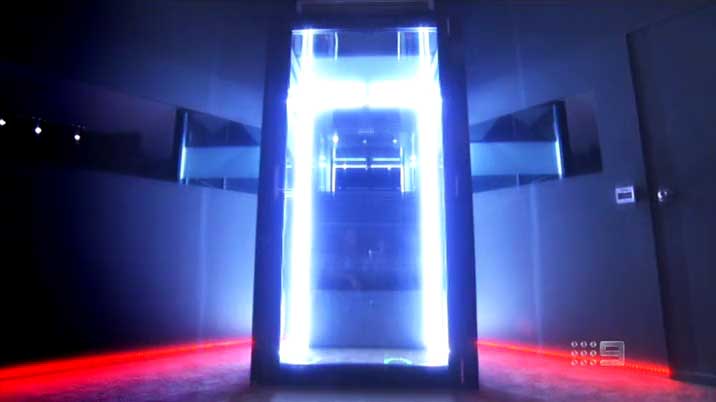 The nominations chamber returned much to the dismay of Big Brother core fans after the soundproof factor was debunked last year. Tim reasserted that the booth was still not totally soundproof this year, when after nominating Tully, shouted "did you get that Tully?!"
With that said, the sound dynamics inside the booth aren't that great, either. We'd like to see the nominations chamber retired once and for all.
Surly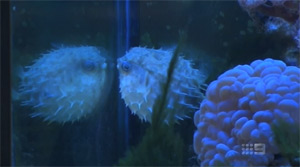 Another recycled idea from last year is Surly the fish (adjacent right), voiced by executive producer Alex Mavroidakis. One difference this year is Surly is no longer a real pufferfish – he is now just a voice from the drain – this is perhaps because Surly died multiple times in 2012 and was subsequently replaced on each occasion. Aside from no longer living in a fish tank, Surly also mysteriously changed colour to orange in his transition to becoming a fake CGI fish (lower right).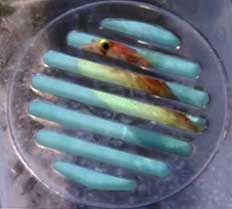 Despite Surly sometimes adding value to the series, the fish is starting to wear thin. Surely after two consecutive series no future auditionee is going to be oblivious to a talking fish, making secret missions all the more harder to accomplish*.
* Unless Surly being exposed is mysteriously deleted from all public footage.
Halfway House Split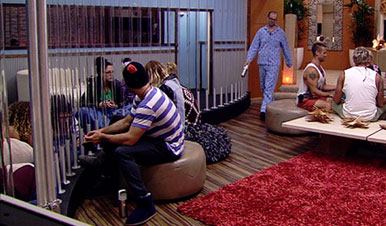 The have & have-nots split house concept has been done before as a task, but not to this scale and in place from day 1. Overall this twist was interesting to watch, although the housemates should have remained on one side much longer than they did, without nominations determining who switches. We think this would have resulted in stronger friendships, enemies, and entertaining TV.
The winner of Showdown each week could instead have swapped one halfway housemate with a safe housemate, independent of nominations. It's not like the public needed a constant reminder of who's nominated, as voting numbers were shown at each commercial break anyway.
The Twist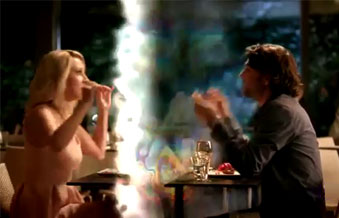 Please, no more shuffling, twisting, hip-hoping or any other kind of dancing in the pre-season promos. What does dancing have to do with Big Brother? It is time to think of something different already!
This year's promo campaign really didn't offer any clues to the 2013 series until the "divide" version went to air (adjacent right), which was obviously to do with the have & have-not house twist.
Opening Titles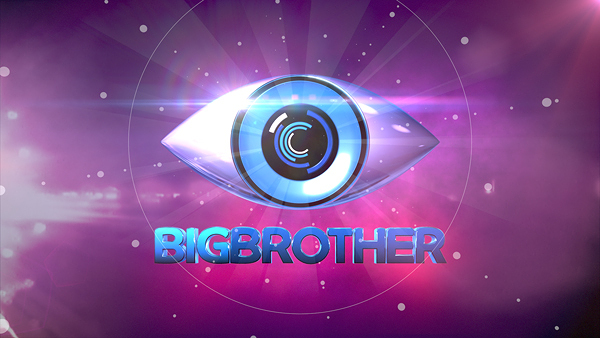 The Opening Titles were outsourced to dd8.tv for 2013. Despite an improvement in quality over last year's in-house attempt, the random colour changing titles were a distraction. Colour coding the various shows to one colour in previous years (since 2004) resulted in instant recognition of the type of show you were watching – blue for Daily Shows, red for Evictions, green for Nominations and orange for Friday Night Live (or Showdown).
Another problem, which was also apparent last year, is the number of housemates in the titles (16) never changed despite the addition of Intruders.
The Set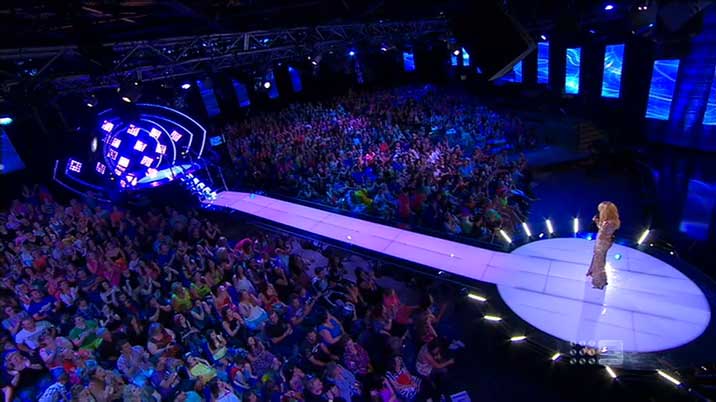 The 2013 set is an improvement over 2012's very BBUK inspired 'rip-off' set, but there is still a lot of room to improve over some of previous iterations. The return of the central eviction plank through the middle of the crowd is a great change, once again providing a connection with the audience and evicted housemate(s). However, the bulk of the set is very minimalist. Aside from a giant video wall, there's not much else to the set.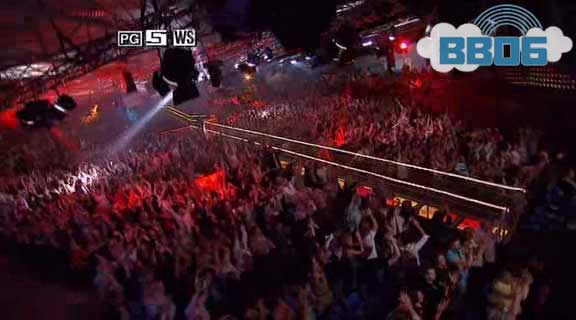 The space previously used for Big Brother sets during the Channel Ten era is merely painted over in a glossy black.  With a combination of seating removed at the very front to make way for the circle Sonia does most of her presenting from, not only does this reduce the amount of creative camera angles that can be used, the size of the audience is also reduced with several rows of seating removed. This and the withdrawal of general admission grass tickets due to a closed in auditorium at the rear all contribute to a much smaller looking audience on TV.
One other issue, while not so much a set problem, is camera angles. During live crosses to the house, Sonia often has her back to the audience – a big no-no for Big Brother as it is an opportunity for the house to see the crowd – so much for no contact with the outside world! We'd like to see Sonia ask the crowd to be "quiet as a mouse" during crosses, so housemates don't find out who the public favourite is – just like the good old days.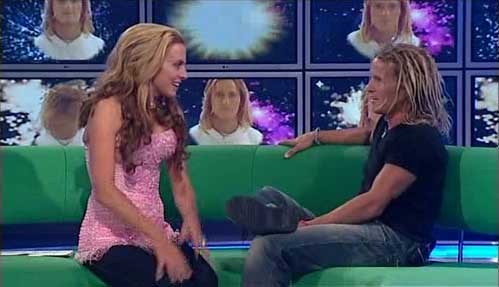 On stage, the high-back chairs look out of place and block camera views over the shoulder. Whilst this is an upgrade to last year's barstools, a couch is really what is missing from evictions – something which has featured on every Big Brother series before moving to Channel 9 (2004 shown right).
The result of all this is a show that feels like a weaker version of its former self and generally not "must watch" event TV.

The House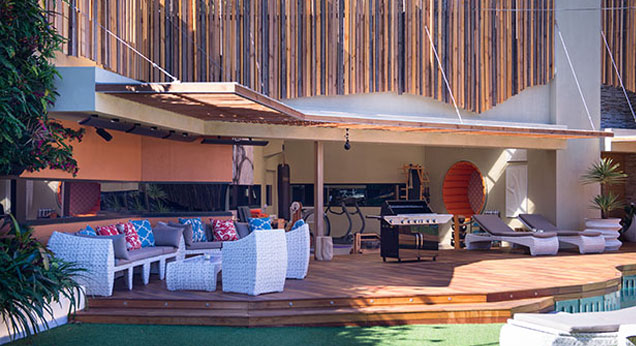 There is actually not much wrong with the 2013 house. The backyard had a tropical vibe with the varnished wood all around, topped off with a palm tree, so there's really nothing to complain about here.
Inside the house, there were two issues that presented themselves over the series:
Issue 1 – Lack of Natural Light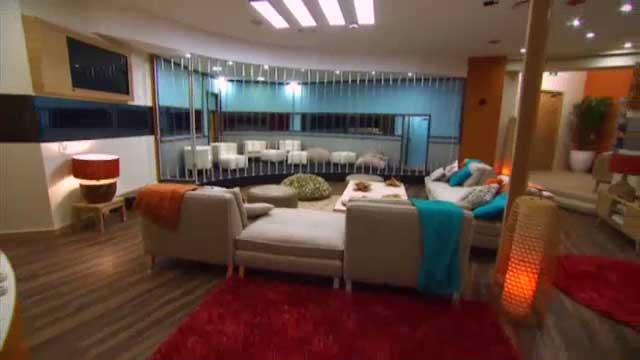 The lack of visible natural light filtering in from to the lounge room from the backyard makes it difficult to determine the time of day. This "oversight" in the house design only made it easier for story editors to alter the order of footage (such as combining several clips hours apart).
Issue 2 – One-sided Purple Bedroom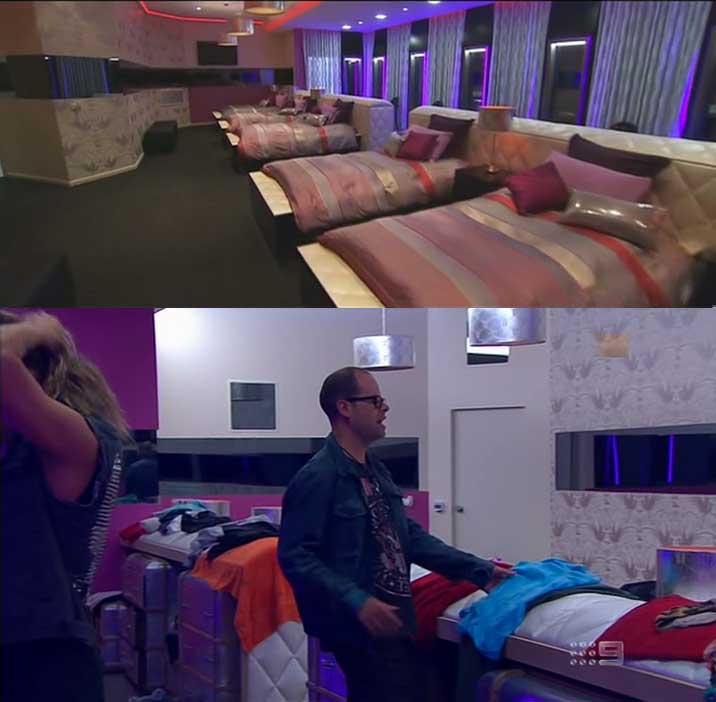 A one-sided main bedroom that  whilst looks really great looking toward the full height mirrors and a welcome change to many of the Big Brother houses of old (especially the later Channel Ten series), doesn't look nearly as good when looking back from the mirrors towards the bedroom door.
Having personal storage underneath each bed and moving each bed directly in front of the rear wall somewhat like BB03 (below) may have looked better from all angles and would still allow for full-height mirrors between each bed.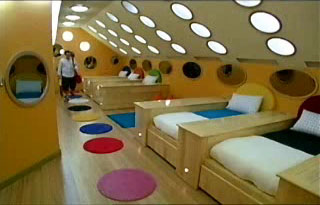 Final Words
Big Brother 2013 has overall been a step up from Nine's initial attempt in 2012, which itself was a major step back from the Channel Ten era due to no live streaming and a more family friendly format.
Spin-off show Confidential, while returning for most of the series, dropped the highly condemned 'magazine-style' voice overs and tacky graphics to just focus on additional house content. Late Night Feast, while full of manufactured and forced scenes at least provided some insights into the housemates that couldn't be shown at 7pm. Showdown, well it might have been good if it was live.
Trick or Treat, or Big Secrets as it was known in 2012, is one of the few shows that really does feel like Big Brother of old. The fact that it is live to air and all about the housemates and their reactions is what makes this show work. That just goes to prove how important the live factor is, and to ease off the editing button when a show could be done live. With no live streaming since moving to Channel 9, a live show is the only chance the viewers get to observe the housemates & their behavour without producers meddling with the footage.
One last point to finish off is to do with the live feed. The feed should never ever be tampered with all in the name of a television exclusive. When Nathan walked from the house, the live feeds were suspended until Monday all in the name of TV ratings. Despite this, the news got out anyway after park guests spotted Nathan from the Dreamworld train.
It would be in Channel 9's best interest to review these suggestions with Southern Star well ahead of time so that Big Brother 2014 can be more like what the fans want.
What would you most like to see changed in time for an 11th series of Big Brother Australia?
Also on Behind Big Brother