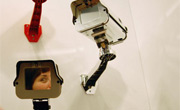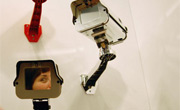 A huge backlash is brewing on social media over Big Brother producers' decision not to offer live internet feeds or an 'Uplate' program this season.
Compounding anger is the fact that BB is now in it's third day and audiences have yet to see any daily show or highlight footage, other than short segments mixed into live specials.
The @BBAULIVE twitter account, which was supposed to replace live feeds, closes down at 11pm. Last night it stopped tweeting only minutes after a whole new housemate entered – not good enough for a 24/7 show.
We've collected some recent tweets from angry fans below (there's many, many more out there). Many complaints have also been posted to the official BB Facebook page but are quickly deleted by Big Brother and the users banned from commenting again.
Are you angry over no feeds? You can voice yourself on twitter by letting these people know: @AlexMavroidakis (executive producer), @southernstaraus (production company) and @channel9.
You can also contact Channel Nine and email Southern star to voice your concerns.
As always, you can discuss the show in our unofficial forums.
#BBAU wish there was a live feed online, rather then this shit blog posts.

— Joshua Marker (@joshuaTM) August 15, 2012
@bbaulive haha.. Well NOONE is watching, unless they work for BB. Not happy at no live feed Jan! #BBAU

— Jo Dernedde (@Joeythestrange) August 15, 2012
all i want is big brother up late and an online live stream feed, pleeease! I will also accept GEM becoming ChannelBB #BBAU@bbau9

— claire ??? (@clarzo) August 14, 2012
@bbau9 give us up late do we can actually see more than 1 hour a day!!! #bringbackbigbrotheruplate

— Natalie Martin (@FINNJEZ) August 14, 2012
@bbau9 @alexmavroidakis @mikeygold since there is no live feed for #bbau yet you need to bring back Uplate. There needs to be more on offer!

— KD (@KangarooDuck) August 14, 2012
Cant believe there isnt any #BBUL or #FridayNightLive How are we supposed to give a poo when all they show us is an hr/day! @bbau9 @bbaulive

— Cheyenne Johnson (@CheyJohnson) August 14, 2012
@bbau9 waste of time watching if there is no uplate or live feed on the net bad decision ch9 gunna be hard to relate to the hms now

— farran (@farran08) August 14, 2012
@bbau9 @bbaulive we really need a live stream, c'mon guys!

— Maria Kain (@mazzypaz) August 14, 2012
@bbau9 I would like to see some live streaming, is that gon be available this year?

— Lil Tunechi (@LilWayneZone) August 14, 2012
@bbau9 with this new mysterious HM, where's the live feed and/or Uplate, a website/FB update? A late night surprise with the lights out! :(

— Guy Wood-Bradley (@UXguywb) August 14, 2012
How is there no live feed at a time like this!!! @bbau9 #BBAU

— Chris Khoury (@Chris_Khouryy) August 14, 2012
@bbau9 @bbaulive bring back the live streaming

— Damian Del Duca (@Damo0409) August 14, 2012
@bbau9 No Live Stream online this year? It's 2012! C'mon!

— Jack (@bushticals) August 14, 2012
@bbau9 So we can't watch Big Brother on our computer / phone because this year there is no live cam. #BBAU and Channel 9 No live cam = Fail

— Nathan Moir (@Mrwce) August 14, 2012
And so on…
Also on Behind Big Brother