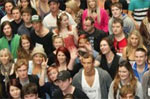 Tidbits coming from our sources are adding fuel to the rumour that some housemates were selected for Big Brother through means other than the nationwide search – specifically Victorian housemates Ryan and Estelle.
So where else would Big Brother find housemates? Modelling and casting agencies, perhaps.
Ryan has also been linked as a buddy of Scott McGreggor, the Australian model/actor with ties to Nine Network from his previous role as a model on Temptation. Draw your own conclusions.
Housemates are barred from talking about auditions when inside the walls of the Big Brother compound.
Also on Behind Big Brother