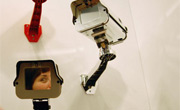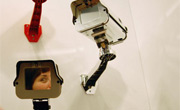 Producers are starting to feel the heat for not offering any live feeds or 'Uplate' content. They've lost 600,000 viewers over the four days since Big Brother launched. Last night's daily show did not break the 1 million viewer mark.
Here's how ratings have panned out so far:
Launch show: 1.6m
Tuesday live show: 1.3m
Wednesday daily: 1.1m
Thursday daily: 973,000
Meanwhile the official Big Brother Facebook page has been bombarded with messages from fans angry over the lack of live feeds, Uplate show and Friday Night Live.
The consensus among viewers returning from older seasons is that Big Brother has been sterilised to the point of becoming boring, and they're now tuning out. One fan from our own forums described this season as "diet Big Brother".
But why are there no feeds from the house? The official word from Big Brother is that it cost too much. We don't believe that's true. Channel Nine have been riding the 'family friendly' concept since the BB return was announced and ultimately they're terrified of another turkey slap.
And what happened to the nightly adult show that was promised by Channel Nine? We suspect it's been canned in the name of being 'safe'.
We previously reported how viewers can voice their concerns. Fans are hoping producers and Channel Nine will turn the show around and avoid "diet Big Brother".
Also on Behind Big Brother