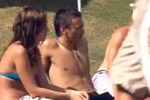 Here's a great find courtesy of Marquisite in our forums – one clever Justin.tv user has responded to the lack of a live feed this year by replaying the live feed from 2006!
So until Southern Star and Channel Nine listen to pleas from fans to bring back the live feed (come on guys, you can find a way to make it work), perhaps this will satisfy some of your cravings.
Head to justin.tv/bigbrotheriswatching to check it out!
Also on Behind Big Brother