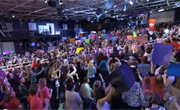 Eviction shows will move to Wednesdays as of October 2nd according to sources at Dreamworld.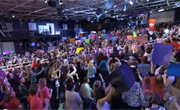 In an email release that went out to ticket holders for the rescheduled Monday September 30 eviction, Dreamworld reveals a sketchy reason for the change of days – "scheduling changes". We think the scheduling changes may be due to Australia's Got Talent, which was the reason behind no Big Brother on Sundays.
Tuesday's Nominations show will also move as a result – we assume to Thursday, as Friday is a no go with Nine's NRL telecasts. It isn't clear if the Nomination's swap will end once the new schedule takes effect.
What isn't clear is what will become of Big Brother on Monday – will even 30 minutes be set aside for a weekend recap daily show or will we be without any BB for three days in a row?
Update: Big Brother will still air for 90 minutes on Monday. Nine's decision to move the Eviction may be due to ratings concerns. On the upside, with Monday now expected to be a daily show, this change should give us access to weekend house footage at last.
Good or bad? Join the discussion on the forums!
Also on Behind Big Brother