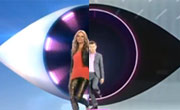 A fresh round of Big Brother promos have begun airing this weekend, featuring Sonia Kruger emerging from the Big Brother eye and floating about on some flashy CGI stairs.
She's decided to keep her wardrobe conservative by wearing the same outfit as the previous shuffle promo… or more likely both promos were shot on the same day. :-)
While Sonia doesn't tell us anything new other than the usual commercial TV guff, the ad does give some hints of where the season is heading. It's a frame-by-frame copy of a Big Brother UK ad that aired last year (watch both below). Channel Nine and Southern Star have already looked to the UK for inspiration on previous promos and even the Big Brother logo itself.
So with the new season being heavily influenced by our British cousins, what could we potentially expect?
When it switched to a new channel, BBUK canned the live internet feeds. This is looking likely to happen on BBAU.
Evictions are held next to the house and involve a large crowd who greet (or boo) the evicted housemate as soon as they come out.
BBUK's companion show "Bit on the side" airs later in the night and includes panelists and callers who discuss the latest house events. There's a chance the 9pm 'adult' show on GO! channel will follow this format.
Some interesting recent tasks on BBUK may find their way to BBAU. One of particular note involved a housemate wearing an electric shock suit.
What do you want to see on the new Big Brother? Discuss the show in our fan forum.
Also on Behind Big Brother