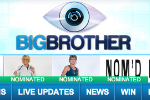 Oops! Channel 9's web design agency accidentally published a preview version of the official Big Brother website to the publicly accessible internet this week, providing new details about the season to come.
The site, which was accessible for several days until the leak was plugged, was a semi-complete design version with mostly filler content from Channel 9's other large reality TV show, The Voice.
Here's what the site tells us:
No live feed. The main navigation contains no placeholders for a live internet feed. Channel 9 may provide this on one of their digital free to air channels, however this has yet to be confirmed. Cutting the live feed would cut costs for the show as it wouldn't require a 24/7 producer. There is a Live Updates section of the website, but it is in a form similar to that of the diary from previous official sites.
No premium content. Previous official websites offered an option to become a 'premium' member for a small fee, which gave users access to additional video content, alternative live streams and other exclusive features. This doesn't look like it'll be making a comeback.
Full streaming episodes. Not surprising considering what Channel 9 offer for many of their other shows.
13 housemates. Code for the sliding housemate banner in the header has provision for 13 housemates – at least to begin with. Seasons 1 and 2 began with 12 housemates, Season 3, 4 and 8 with 14, Season 5 and 6 with 15 and Season 7 with 16.
Public voting via Facebook. Social media has taken a massive step forward since the last incarnation of Big Brother, and it seems the show will be integrated tightly with Facebook. The Evictions page contains buttons to vote for nominated housemates via Facebook, as well as SMS and phone.
Little Sister. An entire navigation item is dedicated to Little Sister, and the page itself has a different (pink) background to the rest of the site. Little Sister is being pitched as an 'insider', but whether or not this will be online-only or extend to a TV slot is yet to be determined.
Ninemsn don't have a great track record with gaffes like this – in May a video announcing the winner of Celebrity Apprentice was published online a day before it went to air.
Let's hope they don't announce the winner of Big Brother too early this season.
Also on Behind Big Brother