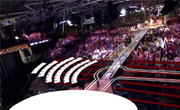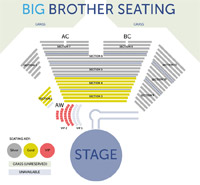 Update: The new catwalk platform has mysteriously disappeared from the seating chart on the ticketing website. Too little too late for a cover up though, see the original chart and images below!
Tickets for the Big Brother launch night went on sale today and the seating chart has given us a glimpse of how the eviction stage will work.
Evictions and upcoming specials will return to the Dreamworld Auditorium. The biggest change is the removal of the "eviction plank" that led evictees through the centre of the crowd. Evictees will now enter via the side of the auditorium, on a 90 degree catwalk.
Walking past the front of the stage they will then have the chance to stop and pose on a small circular platform, wave to the crowd, tv cameras (and possible photographers below) before moving up to the main stage for the eviction interview. A 'VIP area' will have the best viewing area of the 'pose platform'.
Behind Big Brother user marquisite has created this composite image (left) to show how the new catwalk and VIP seating will look on TV:

We've already made a song and dance about how much producers have been "borrowing" from Big Brother UK, but this is no different. The catwalk idea has come straight from Britain (image on the right above).
Here's how they do it (eviction happens towards the end of the video):
Also on Behind Big Brother