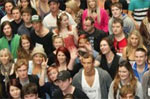 Now that the housemates for this season are officially in lockdown, rumours are flying on who will be entering the house come Monday week.
Here's a snapshot of who we've heard have made it thus far:
A female children's entertainer from Sydney who goes by the pseudonym "Pixie".
A 19 year old guy from Brisbane who works at the Royal George Hotel.
A 26 year old copywriter also from Brisbane. He's friends with the band The Amity Affliction and has a long term girlfriend.

Update: This potential housemate broke up with his girlfriend of seven years to go on the show, citing "it's for her own good".

Gold Coast Titans player Greg Bird. While it seems like a long shot, he was spied in later rounds of the audition process where show producers were very keen in him. He's also conveniently been sidelined out of this weekend's game with a hamstring injury. Greg's coach said: "It's a hamstring strain [for Bird] and very rarely do you get them back within a week."
A blonde, female professional athlete from the Gold Coast.
Less known is an 'arty hipster' girl from Sydney who professed "I dont have Facebook, I dont even have an iPhone, I go to libraries to use books". We've heard that Pixie was likely chosen over this other girl.
Have you heard a rumour? Let us know and discuss the latest Big Brother gossip on our forum.
Also on Behind Big Brother