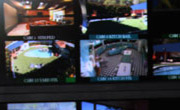 Hey you there, get out of the way of those screens – we want to see inside the house!
In a curiously titled interview with BB Executive Producer Alex Mavroidakis posted to the official website today, the most interesting information was actually right behind him – screens in the control room showing this year's house.
Thanks to some clever sleuthing by our forum users, here's a match the room to the picture look at the house. Each area of the house is shown in the control room based on colours. For example: all backyard cameras have green text under them.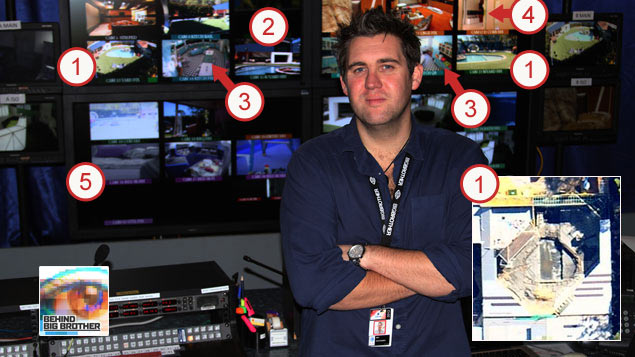 1. Backyard and pool area (screens with green text) – this year's pool is roughly diamond shaped and sits in the middle of the backyard area. There's a 360 degree camera on a pole situated in the middle of it. You can see the shape in aerial shots of the renovations.
2. Entrance to the house – another shot from the backyard. It is speculated the white arch will be the entryway into the house from outside.
3. Kitchen or storage room (screens with turquoise text) – while these shots are not so clear, they look likely to be the kitchen or food store room.
4. Lounge area (screens with orange text) – There appears to be lounge furniture in these rooms. The orange camera on the very right could be showing the 'sin bin'.
5. Bedroom (screens with purple text) – Clearly the house bedroom. Under each bed you can see the blue neon lights we previously reported on.
Thanks to marquisite, matts bb and Will.
Also on Behind Big Brother