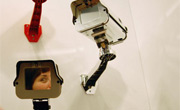 On the same day that Big Brother Executive producer Alex Mavroidakis said in an interview "I really want to go back to the purity of the format", the official BB Twitter account has quietly let slip that there will be no internet feeds – a key component of the Big Brother franchise.
The past eight seasons of Big Brother Australia have included feeds, going back to 2001 when broadband internet was still unavailable to most people. In the USA version, now in its 14th season, viewers are able to purchase a live feed package with four streams, split screen and a rewind function.
Instead Australian producers have once again followed their counterparts in the UK, who ditched the feed earlier this year. That move copped them a mountain of complaints from fans. Going on the defence, BBAU says the twitter account @BBAULIVE will be an appropriate substitute for watching the housemates via camera.
Here's an example of how the live update twitter account works in the UK. A good substitute? You decide.
11.45pm: Lights are out in the bedroom. Oh. Hang on… They're back on again. #bbuklive

— Big Brother Live (@BBUKLive) August 6, 2012
The move has left fans feeling producers and Channel Nine are scared of their own show, and don't want to deal with another turkey-slapping incident – which originally came to light via internet feeds. Fans argue the core element of the show – the live connection – has been traded in for prepackaged and selectively edited footage.
Here's the original twitter post and some of the fall out. What do you think about no live feeds? Leave a comment below or join the discussion in our forums.
@thequalitydan No direct live stream this year. But check out @bbaulive to follow every moment (video included) from the House. #BBAU

— Big Brother(@bbau9) August 6, 2012
@bbau9 @behindbb @alexmavroidakis @thequalitydanAbsolutely horrible decision for #BBAU. I'm already disappointed, but I saw it coming.

— Ryan (Uni) (@marquisite) August 6, 2012
@behindbb @bbau9 Here Here! Well said, I'm actually quite furious considering I doubt that we'll see much house action in the live shows

— Ross (aka RK) (@rkbbuk) August 7, 2012
BBAU live feed has just been confirmed to be axed similar to C5's decision, instead having a twitter feed. #mistake #bbuk #bbau

— Ryan (@TweetMeRyan) August 6, 2012
With info from BBspy.
Also on Behind Big Brother