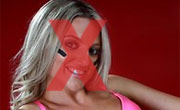 A random story to pop up in today's Daily Telegraph newspaper reports that promotions girl Ruby Jacenko has been contracted by Southern Star and is about to go into lockdown before the season launch.
Ruby is known as "that chick who had a romance with Westlife singer Brian McFadden" and had previously pole danced at one of classy Kyle Sandilands' birthday parties.
Our sources have confirmed now that Ruby has been named, she's been kicked out of the show.
While we can all shrug our shoulders and wait for the next potential housemate to fill her spot, we can't help but point out that Ruby looks exactly like the type of person producers initially said they were trying to avoid.
Blonde busty types were rejected in the Big Brother promo advertising, and during interviews producers said they were looking for 'real Australians'. Do you think they'll keep their word? Leave a comment below or discuss on our forums.
Also on Behind Big Brother