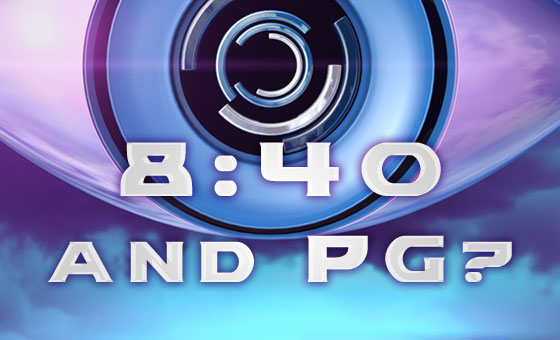 The TV broadcast of the BIG BROTHER 2014 Launch Show is slotted in for 8:40 pm on September 8, and 8:40 pm is the magic number for the rest of the week.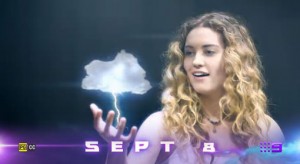 Big Brother fans have been longing for a later timeslot for years, and with a start time after the 8:30 watershed, Channel 9 have an opportunity to air more mature Big Brother content under the "M" classification.
However, with the later slot apparent only from extended nightly news and ongoing scheduling clashes with The Block, Channel 9 has opted to keep Big Brother with a PG rating – and BB looks all but likely to resume in an earlier evening slot once The Block is finished.
Big Brother 2014 is alleged to air six days a week, after the official site revealed that producers have 12 hours to "turn around the Daily Show from 24 hours of footage, six days per week." This is positive news as it means Big Brother will once again have just one day of the week off air. This ought to avoid a repeat of last year where consecutive days of no BB show led to entire weekends of house action never making it to air. With shows scheduled for at least Monday to Thursday (including Evictions on Tuesdays), the question is what day of the week will be Big Brother's day off – Friday, Saturday or Sunday?
---
UPDATE: The Sunday Telegraph confirms Big Brother's weekly schedule will be Sunday-Friday, with Sonia hosting a 9PM "Sunday night BB". As previously reported, Evictions will be on Tuesdays. Nominations will occur during Wednesday's daily show which explains its longer run time, with daily shows to air on Thursday and Friday.
Monday, September 8
BIG BROTHER – LAUNCH SHOW. 8:40-10:10 pm (90m), PG.
Big Brother is back!! A whole new group of housemates enter the Big Brother house which has had a huge makeover and is full of secrets and tricks. One housemate will learn they have an extraordinary power as Big Brother 2014 kicks off for a stormy new season.
The launch synopsis suggests Big Brother Australia's "storm" will be following in the footsteps of BBUK's Power Housemate twist.
Tuesday, September 9
BIG BROTHER – THE STORM HAS ARRIVED [LIVE]. 8:40-10:10 pm (90m), PG.
The first night in the house for a new breed of housemates. Who's taken control? Will Big Brother send in more housemates?
This write up is such a tease – of course there will be more housemates going in! The ticketing webpage for this show even says "the final few housemates" will be entering.
Wednesday, September 10
BIG BROTHER. 8:40-10:10 pm (90m), PG.
It's a new house with a new group of housemates and it's sure to be a stormy season. Join in on all the fun, action and drama from the Big Brother House.
Thursday, September 11
BIG BROTHER 8:40-9:40 pm (60m), PG.
It's a new house with a new group of housemates and it's sure to be a stormy season. Join in on all the fun, action and drama from the Big Brother House.
---
Friday, September 12
Friday's BIG BROTHER fix will be shorter than other days, just 30 minutes. It will air from 8:00 pm. Nine's other Reality TV series The Block will be occupying the 7:30-8:00 pm slot. NRL states have a qualifying final match to air the same evening and it looks like New South Wales and Queensland will miss this daily show. As a result, BIG BROTHER will air on GOChannel between 7:30-8 pm.

Sunday, September 14
On Sundays, a 9PM show will air lasting an hour, hosted by Sonia. The format of this show is currently a mystery.

Encore, Encore!
Each Big Brother episode up to Thursday will be replayed on GOChannel from 2 pm the following day, with episodes replayed a second time (including Friday's edition) in the early hours of Saturday and Sunday morning.
And in the second week…
The rundown for week 2 and beyond (at least until The Block concludes) is as follows:
Monday: Monday Night Live 8:40 pm
Tuesday: Eviction 8:40 pm (except in week 2)
Wednesday: Daily Show with Nominations 8:40 pm
Thursday: Daily Show 8:40 pm
Friday: Daily Show 7:30 pm / 8pm (check local guides)
Sunday: Big Brother (sunday edition) 9 pm
Also on Behind Big Brother