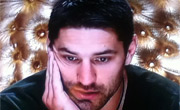 In hardly surprising news, Ed is the hot tip to be booted from the Big Brother building by ballot.
Update: Nope! Ben has been evicted in an eviction shocker. Get discussing the aftermath on our discussion forums.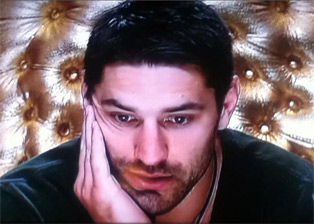 Before: Ed's endurance is ending as he evidently edges enroute to ending his expedition…
… oh screw it. Making sentences alliterate is really hard! How did Gretel Killeen ever manage it?
Anyway, Ed is a goner. Within the 24 hours before the eviction his odds of survival have plummeted. While he's been favourite to go all along last week his odds were wavering very close to Drew, and at once point it could like either male housemate could be evicted.
But Ed's excruiating date with Jade plus his general man-whoring ways have meant any last chances have evaporated. Centrebet has Ed at $1.08 to be evicted. To put this in perspective – a betting odd of $1.00 means it's a 100% certainty of it happening.
The booking experts at Centrebet have told us the shift in odds was due to a large group of people betting against Ed on Tuesday morning.
One single bet against Ed was in the thousands of dollars.
Yikes. Some one is pretty confident Ed is leaving.
Drew is looking safe at $5.50, followed by Tahan, Tim and Ben is least likely to be evicted.
And what about the winner odds? There's no change and Ben is the favourite to win the series. Interestingly at this point in time Mikkayla has less of a chance winning the season than newest housemates Boog and Madaline. In fact, Boog is coming in fifth.
Also on Behind Big Brother