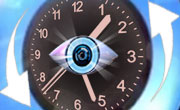 Nine's EPG for Thursday night is suggesting Big Brother will air episodes of different lengths in different states due to Thursday Night Football airing at 7.30pm.
Update: Melbourne, Adelaide, Perth and Hobart will see a 30 minute daily show, to be then followed by a 60-minute daily show continuation – all on Nine. Sydney and Brisbane will see the first 30 minutes but will need to switch over to GO! Channel to view last 60 minutes at 7:30 pm
According to information posted on our forums, a 30 minute edition will air in Sydney, Brisbane and possibly Melbourne (there are conflicting reports), while Adelaide, Perth and Hobart get the full 90 minute edition.   An 80-minute late night repeat is also scheduled to air nationwide on Go!
Meanwhile NBN will air no edition on Thursday, instead airing a 60-minute version at 10pm on Friday assumed to be combining the half hour editions from Thursday and Friday. Nine Darwin appears to have dropped Big Brother from the Thursday and Friday schedules entirely this week, with NFL telecasts to start from 7pm on both nights.
With the Thursday night show now featuring Showdown – and the nominations swap that follows, along with the family dinner and day 2 of the weekly task that is a lot to fit into 30 minutes – and although scheduling has varied from state to state previously due to sport, it would be the first time that viewers in different states would see different length edits of the same episode.
Schedules though are subject to change – if you have any more information you can add please contribute to the thread on our forums or post below.
Thanks to chadz, marquisite, Sly and beachey dude.
Also on Behind Big Brother