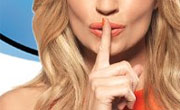 Just as we suspected earlier this week, Big Brother is preparing to introduce the season's first intruder. We hear she – yep, a female – is already in lockdown and will enter the house early next week.
Producers have released embargoed housemate information to the Sunday media.
Big Brother's terrible marketing ploy and common slurry Lil Sis practically confirmed this on the official site blog today: I think they're ready for a bit of extra company, don't you? In a few days I'm going to introduce you to somebody new …
With Channel 7 rival TV show X Factor announcing their Top 12 over Monday, Tuesday and Wednesday this week, the producers must battle to keep their position in the ratings and maintain viewer interest.
Also on Behind Big Brother