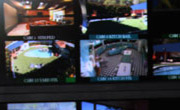 Big Brother 2012 is off to a strong start, with OzTam's preliminary overnight ratings revealing 1.618 million viewers tuned in to last night's launch show, peaking at 2.1 million.
The last season of Big Brother, in 2008, brought in 1.511 million viewers for it's two-hour launch show, peaking at 1.9 million. In 2007 – the year the housemates were revealed on this website two days before launch – the launch show brought in just 1.55 million viewers, down 14% on 2006's 1.8 million. 1.58 million viewers tuned in to the 2005 launch and 1.72 million in 2004.
The most watched launch show was in 2003, with 2.225 million viewers. 1.63 million viewers tuned in the launch of the first Australian season of Big Brother in 2001.
Also on Behind Big Brother