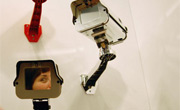 Update: This afternoon BB Confidential was scrubbed from Wednesday night TV guides and appears to have been moved to 8pm Thursdays on Channel Nine (8.30pm for regional viewers on NBN). This means the show will be classified PG.
Big Brother's new late-night show, Big Brother Confidential premiered last night to just 387,000 viewers, marking the least-watched Big Brother show this season.
The show – which airs at the later timeslot of 10pm and is pitched as offering "late-night headlines, unseen action, and talking points from the Big Brother house" – included rehashes of previously seen footage from the Daily Show and such key highlights as a boob grab, several fart jokes and Bradley doing a strip tease.
There were no gratuitous and unexplained shower scene montages circa Big Brother Uncut of years gone by, with the show still fitting comfortably within Nine's "family friendly" brief.
This week's episode was rated M, however advance guides for next week suggest subsequent episodes will be rated MA15+ and may include more adult content.
Also on Behind Big Brother