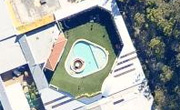 Update: There's a second "house" but it's filled with actors, and isn't located at Dreamworld. More info here.
Is there a second house? In a post on the official website last night, everyone's despised marketing ploy Little Sister snuck in a comment suggesting a second Big Brother house is about to be introduced:
"Oh, one last thing… remember that "is there only ONE Big Brother House" thing on the Launch Show? Sunday would be a really good time to stay on the couch. Just sayin'. Whoops BB – did I say too much?""
Well soz to ruin all the fun Lil Sis' but there's no second house. The previously leaked house blueprints and recent aerial photography of the complex show this. (The area to the left is the Captain's Quarters).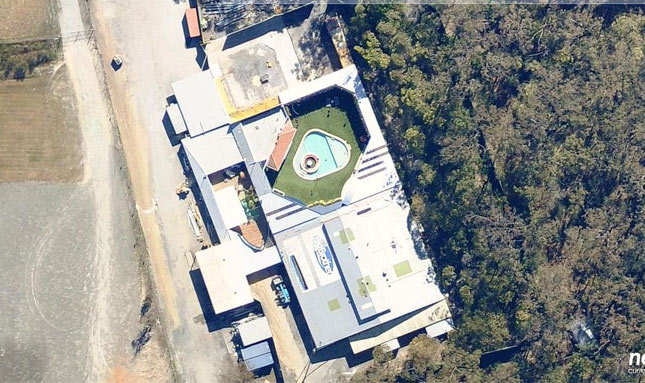 So what's going to happen? Big Brother will fake the second house. Before last Sunday's eviction began broadcasting live, the auditorium audience were handed signs to hold by Big Brother staff. The signs included phrases like:
Save house number 1
House two rules
Tyson is hot
Paige <3
Half the audience was told to chant "house one" and the other half "house two".
The crowd was filmed and the footage will be played into the house next Sunday to attempt to fool the housemates. Whether they'll actually be tricked is another story – BB has never shown the housemates footage of the crowd so far so it may look like an obvious attempt.
It is similar to the "fake week" twist used on Big Brother UK in 2007. During fake week the British producers flew a plane over the house with a trailing sign which read "There's another house". They also introduced an actor who pretended they were recently evicted from Australian Big Brother.
Finally there's a small chance either Bradley, Ryan or Benjamin will be "evicted" to another room of the house (the "second house"), most likely the Utility Room which was used as the parlour and man cave. It has a toilet attached and a housemate could live there for a short while.
Will the housemates fall for it? Leave a comment below or join us on our unofficial forums!
Thanks to Cameron, jarroddaniel1 and Kelsey.
Also on Behind Big Brother