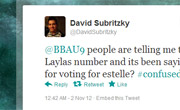 There's been reports from various Big Brother viewers that while attempting to vote via phone for Layla to win, they get a message saying the vote has gone towards Estelle.
The voting line error even prompted Layla's brother to post a tweet at the official BBAU account, asking what was going on.
As usual, there was no response.

We were sceptical at first since a voting line error is claimed almost every season, but it appears the issue has happened to at least a handful of people.
What has your experience been voting for Layla or Estelle? Leave us a comment below.
Also on Behind Big Brother