More on the Big Brother girls
Who smoked pot and wants to make love in a Batman bed?
There's no hiding on the internet. Here's more from various online housemate profiles belonging to some of the Big Brother girls, as snooped out by fans on our unofficial forums.
Estelle
We've previously posted about Estelle's various online profiles – she's basically all over the internet – but here's some more that have popped up over the past few weeks.
Up until lockdown Estelle was very active on her tumblr blog where she mostly posts photos of her riding horses and of things she spots while walking around Fitzroy. However scroll back to September last year she's posting entries about how she smoked pot while traveling in Amsterdam:
"Claire snuck me into her Hostel room at the Flying Pig Hostel. A well known and very big and busy place. The ambience was rather good. As you could spend endless hours in the "Smoking room" sharing stories mostly of smoking weed and comical discussion which arise from your Cannabis induced mindset.

The next day we spent about that doing, exactly that. Claire's criticisms on how I rolled did bug me as I was sure she could not do a better job! Anyway I got them rolled and were more than enjoyable!! Spending a good 2 hours writing in my journal. And making general notes about life."
Along with the entry is photos of Estelle rolling a joint.
Hilariously, Estelle also reblogged a photo of a Batman themed bed with the caption "Clearly added to the bucket list: MAKING LOVE IN THIS ROOM." Perhaps some one should tell Bradley?
---
Stacey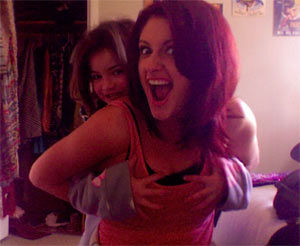 Stacey is also very active on her tumblr blog, titled Dance if your fannies on fire. There's quite a few image posts, but every now and then there's a real gem of a story:
"BITCH GOT BIEBERED"
That is correct, and didn't even dive for the muff to get to this stage, i only realised it today when i did an innocent little trip to Westfield Bondi Juction…and the story goes like this. … the rest here.
Stacey also has a few YouTube videos around:
---
Zoe

Zoe doesn't have a huge online presence but her old Myspace account was found which includes high school blog posts such as:
"Current mood:grumpy
i am hungover and sick and my life is gay because i have to study for the HSC and its SOOOOO overrated if you fail shit happens you get over it meh
anyways just wanted to get that out take care all!
xxxx"
Despite these angsty teenage expressions there is next to no evidence in her myspace profile that she used to be an emo.