Big Brother will be back in 2013
Non stop reality for Nine
The good news: Big Brother will return in 2013. The bad news: it's on Channel Nine again.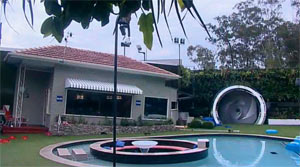 BandT reports that Big Brother has made an appearance on Channel Nine's 2013 show reel which was previewed to media buyers this week.
Peter Wiltshire from Channel Nine sales said the reel was "not our upfronts" (meaning it's not 100% confirmed). We suggest you take Peter's salesman words with a grain of salt – he's the guy who promised earlier this year that Big Brother 2012 would include a "nightly adult show", and that promise was never delivered.
The reel also included two seasons of 'The Block', meaning the 7pm slot on Channel Nine will be reality TV for most of the year.
It's a mixed blessing for Big Brother fans – the show is returning but will likely be neutered by the "family friendly" restrictions Channel Nine placed on it this year.
Big Brother on Channel Nine also means live internet feeds are very unlikely to return.
It's also unclear whether BB production values will get a shot in the arm after its cheapo 2012 budget. With its debt cleared/swapped, Channel Nine has a little more luxury to spend money on production.
Channel Nine's confirmed 'upfronts' will be announced at the end of November.
Thanks to Ryan.