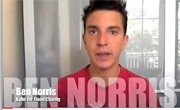 Some eagle eyed users from our forums have discovered a video campaign run by Ben last year calling for Kylie Minogue to perform a charity concert to benefit the victims of the Queensland floods.
In the video from January last year, Ben discusses the plight of the flood victims and promotes a Facebook group asking Kylie to host the flood relief concert. At the time Kylie was about to arrive in Australia as part of a world tour.
While the video campaign didn't result in an extra concert from Kylie, it did gain media attention and Ben was able to run his own fundraising event which included covers of Kylie's songs.
Bonus content: Ben's partner (also named Ben) spoke to DNA magazine this week about their relationship and Ben's time in the house.
Bonus bonus content: Here's a photo of Ben and Ben's dog named Oscar. Awwwww!
Thanks to :pp, pecan and eliza