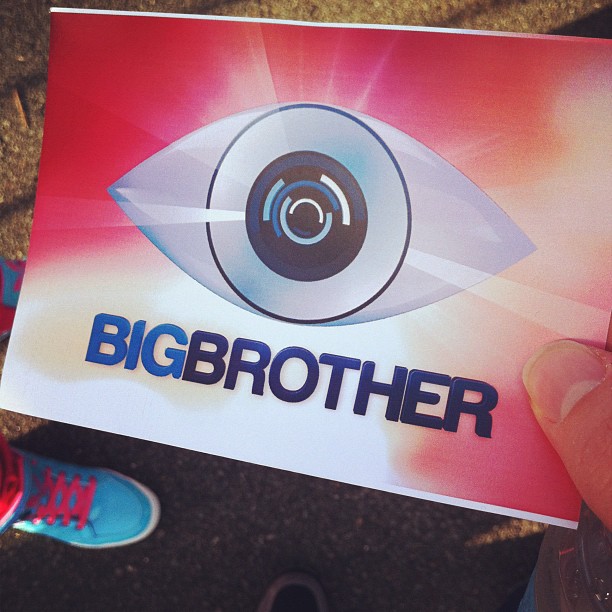 After four years, Big Brother returns to our screens….tomorrow night. As is tradition with the Australian version, housemates actually enter tonight and we see the launch on television screens tomorrow night. With the help of our forum members and 'goons', I'll try to keep you updated throughout the night. Earlier info will fall to the bottom of the page, newer updates will appear at the top of the page. Enjoy!
9:23pm: We've lost our source of info so I'm basically just re-hashing stuff from the official site for the moment. We do have at least one more member on the ground who will update us all in a little while once the opening has finished filming, so I might end this shift here. Stay tuned for further updates shortly…
9:20pm: According to the official site, 3 housemates have met each other and have entered one room. They have a TV in the room and are watching a fourth housemate, a male, who is in the house proper by themselves.
9:19pm: Finally, a picture. This was used for one of the two housemates so far who have entered…

9:01pm According to the official site, two housemates have entered the house but they are in different sections of it. One of the housemates can see the other via a TV. There's also a debate on the name of housemates who have been introduced, we believe they are Michael, Sarah, Angie, Bobbie, Laia and Josh. Apologies about the earlier reference to Makayla.
8:35pm: As is tradition, we've again crashed on opening night. Updates to follow in a few minutes once I'm back up to speed.
8:20pm Oops, went and watched the start of the marathon! While I've been gone a few housemates have been on stage
7:57pm: Fourth housemate is Makayla…and apparently she is not impressed, whatever that means. PICTURES PLEASE!!
7:49pm: Well this is all rather boring – I want to see some pics!!! I'll be back as news comes through
7:45pm: Mike is giving away free tickets to Tuesday's show – rentacrowd is on standby though if there are no takers. Next housemate is single and loves to hang out with the boys. It's Angie.
7:43pm: With confirmed reports suggesting that housemates have entered the house, we believe it's time that Big Brother's live update twitter account (the one to replace the live feeds) should kick into action…don't you? C'mon @BBAULIVE
7:29pm: Second housemate is Sarah…we seemed to have stopped the photo updates which is disappointing, sorry guys, as soon as I see any I will post. According to BB's twitter feed, Michael has entered the house.
7:19pm:First housemate is Michael. People will think he is the worst person in the world.
7:10pm: MAYDAY…….THE ROOF IS ON FIRE….taping has stopped and the fire is slowly bring put out. GREAT START!!!
7:02pm: And we're away!!! Sonia Kruger takes to the stage. Tells the audience that this years prize money is a staggering…wait for it….$50,000. Here's a screengrab of the autocue for Sonia to read…
6:54pm: The @bbau9 twitter account has told the audience to tag any photos/info as 'spoilers' – how very sweet. If you are reading this blog, consider everything on this page to be 'spoiler' related. Cheers!
6:50pm: The poor poor audience….Mike Goldman has taken the stage. But that's not why they should be upset…it's because he's asked them to try and do the Big Brother shuffle!
6:40pm:First pictures of the stage are coming through – looks to be VERY inspired by BBUK!
6:31pm: Ticket holders have started to fill the auditorium in preparation for tonight's filming. While they make their way to seats, Big Brother staffers are handing out cards with the new logo on them. On the page they contain information about Facebook and Twitter.
Also on Behind Big Brother