I am liking this season as I have fond memories of Gisborne where they have filmed this show. When I was younger my mate's brother in law had a nice large block of land up there and house at Gisborne and we would usually travel out there on most weekends from Melbourne up the Calder Freeway.
I still remember my mate's brother in law had an old Holden Torana up there on the block and we would sometimes head up there on the weekend and 'paddock bash' that old beast around the block of land it was great fun. We sort of had made a race track around the block and it even had a little jump 'dukes of hazzard' style. It was just a 6 cylinder Torana but let me tell you that tough little old red Holden engine would never die I mean we really thrashed that old beast around that block of land many times and the beast just kept on going. Eventually what stopped the little beast was another mate got a bit too keen and took the 'jump' a bit too fast and the front of the car really jumped up in the air a bit too much and then the front end of the car slammed back into the ground rather hard and it smashed and folded in the front end of the Torana to the point where the radiator got pushed back into the fan and it cut up the radiator. Sadly that was the last time we ever drove around that old beast up at the old Gisborne block of land. Here is a picture of what it sort of looked like from what I remember, now that I think of it imagine what one of these things would be worth now as a restored collector model?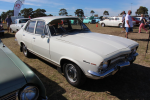 Another time I won't forget was one night me and my mate had bought some fish and chips from the local Gisborne shopping strip and thought it would be great to drive up to the top of Mount Macedon and eat the food up on the mountain and enjoy the view, anyway the weather suddenly turned really dark and we were pretty much up that high we were in the clouds that seemed to be coming and it was a rather serious thunderstorm that all of a sudden we were right smack dab in the middle of. We quickly jumped in his old Ford XF utility and shut all the windows and basically hoped for the best as we slowly descended down the mountain on the road, we pretty much had no visibility in front of the car just rolling clouds everywhere and flashes of lightning and thunder all around us. Luckily the car never got struck by the lightning and we made it down the mountain ever so slowly and then we could see more clearly at lower ground level and we were out of danger I guess. That's one of those moments in life that you never forget and it stays with you forever. All this stuff would have been sometime in the late 1990's.
In the end my mates brother in law kept holding off in selling the block of land to developers until he eventually got the right amount, after a few years they ended up selling the block of land for a nice amount and moved further up north somewhere near the Murray River. So you can imagine when I watch them filming around Gisborne and hearing Scott Cam mentioning Mount Macedon all the memories just come rushing back!
Cheers!