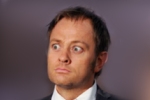 Over the past few weeks, we've all been seeing some positive signs; a host who knows how to shuffle, an Executive Producer who's in touch with his audience and a housemate hunt that promises to weed out the sterotypes. Adding yet another dimension to the new series is today's announcement that the lovely Mike Goldman will be gracing our airwaves in the new series.
Goldman, a Big Brother institution, seems to have been given somewhat of a back seat in 2012, with The Age reporting that there "will be no on screen presence" of his role in this season's production. To much of the audience, this comes as welcome news as it will allow the nostalgia of past years to come flooding back without the dose of nausea that usually accompanied his performances in front of the camera.
This also raises another important point about the 2012 series. Goldman is cheap labor – in past years, he was used by the production team in multiple roles; narrator, presenter of Up Late and the Friday night games and possibly as a coffee kid / footrest for the host.  If they were going to bring back these spin-off productions, wouldn't you think that the same arrangement would be applied?
That's unless there isn't going to be a host, or there isn't going to be a reincarnation of these shows during the series at all…
Also on Behind Big Brother