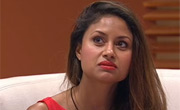 After two consecutive weeks of Estelle being punter's favourite to leave the house (and being wrong both times), betting agencies have adjusted their predictions and intruder Ava is now front and centre for dismissal on Tuesday evening.
While the odds for the current three nominees were almost identical near the beginning of the week, Ava has emerged as the clear winner (or loser?). Centrebet has the next eviction odds at the time of writing as:
Ava: 1.28
Angie: 3.70
Estelle: 7.00
Some major changes have also occurred in the winner stakes. Josh's recent affections with the girls may have cost him dearly because Stacey has leapfrogged him to take the likely second place spot in the series (Michael is still at first).
Meanwhile Benjamin has risen in the betting ranks and is now equal third with Josh. Only a few weeks ago Benjamin had some of the worst odds to win out of all the housemates. Sam is fairing quite well (for an intruder), while Angie and Estelle are trailing right behind the pack. Here's the most recent odds:
Michael 3.70
Stacey 4.50
Josh 6.00
Benjamin 6.00
Sam 8.00
Layla 8.50
Zoe 10.00
Bradley 15.00
Estelle 26.00
Angie 34.00
Ava 34.00
Also on Behind Big Brother