an old fart that rants at times...
Awesome site donor
…this is a
'What The?':
… I've started this thread for people that need questions answered by people more knowledgeable than themselves (or are just plain smart arses lol!)… but seriously… I've looked everywhere on the Internet to see where I can get this valued or even just some information about it… I know that it's called a 'pub beer tower' (or something like that)… but I'd love to know how old it is and where it's from for example…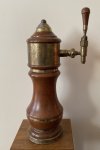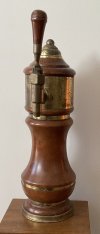 …so if anyone knows where I can take it to find out anything about it I'd be forever grateful… (in the UK you can take it to the 'Antiques Roadshow' for instance)… it's a shame we don't have that here because I'd be laughing…
…anyway… there's always somebody that knows the answer to something that you have no clue about… hence the reason for this thread… is there any other thread that does this on here?… if so… just tell me and I'll go to it and just ignore this thread lol!… cheers.