100% Free. Apply now!
Awesome site donor
Just a last minute game to kick off the season. I've entered the first 20 people who posted in
this thread
to take part. If you missed out you can opt in below for any vacated spots or intruders. And also if you want to be excluded let me know and whoever is on the waiting list can take your spot.
Housemates were assigned according to the alphabetical list posted on TV Tonight.
YOU HAVE TO SUPPORT YOUR ASSIGNED HOUSEMATE. NOT MATTER WHAT.
Bear in mind I got the marketing guy so suck it up.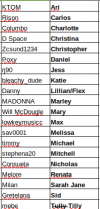 @KTOM
@Rison
@Columbo
@D Space
@Zcsund1234
@Poxy
@rj90
@bleachy_dude
@Danny
@MADONNA
@Will McDougle
@lowkeymusicc
@sav0001
@timmy
@stephena20
@Consuela
@Melore
@Milan
@Gretelana
@mebe
Last edited: