It's looking more and more likely that Big Brother producers simply go to talent agencies for all of their housemates now.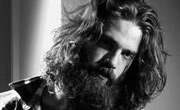 While Ninemsn is reporting that new intruder Justynn is a lumberjack, he's actually also a model / actor, one of many who have already entered the house and had their profiles listed on talent site Starnow.
Justynn's talent profile has since been removed but you can view it in all it's cache'ed glory right here.
In the profile Justynn explains that's he's been in television ads and magazine shoots. His showreel video (shown below) says he's looking for television presenting work.
The profile also reveals Justynn has been in TV ads for Big Brother sponsor KFC, and was cast as a guest in the Channel 9 show Love Child, which will air on TV later this year. What a coincidence!
His profile includes photos of him looking all beard-y and shiz.
Here's his showreel, see if you can make it the whole way through, it's a real test of patience.
Thanks to our fabulous forum users who snooped this one out.