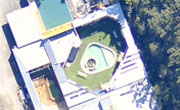 The man behind Big Brother Australia Alex Mavroidakis is back to answer more questions from BBBA members following a special invitation by our very own Goon to ask him anything you really wanted to know.
If you missed the first batch take a look here.
Insider06: WHICH SEASON IS YOUR FAVOURITE OF ALL TIME OTHER THAN 2012?
Alex: 2012 was the best in my opinion but after that I will go 2003. Reggie V Chrissie – can't beat that.
Brekkie: DO YOU FIND HOUSEMATES AS PART OF THE HOUSEMATE HUNT OR JUST CHOOSE MODELS?
Alex: We only choose people from the Housemate Hunt. We do not direct cast like other reality shows – the process of becoming a Housemate is a long and tough one and people need to come through the tried and trusted system. When you say "models" you have to remember that pretty much every good looking person in the universe labels themselves a "model" in this day and age. Of course we will have a percentage of "lookers" in the House but in order to make the cut they will have demonstrated far more than just a good look to us. This year we have a diverse cast in terms of age, ethnicity, professions and personality – it is the strongest bunch of Housemates I have seen in 10 years of making this program.
timmydownawell: WHY DO YOU TREAT YOUR VIEWERS LIKE CHILDREN?
Alex: Because some of them are – literally. Big Brother in Australia is a 7pm show – the reason being that as a nation Australians go to bed earlier than in other countries meaning "prime time" television is really 7-9. In Europe and South America it is much later so that is where place their version of BB. The most similar country in BB terms is India – their version of "Big Boss" is PG – just like us.
Big Brother is a show that celebrates people, that champions the folk you pass on the street everyday. Most can't sing, nor can they dance. A lot have questionable cooking skills. They're strangers – and we (the audience) judge them at first and slowly they reveal themselves. Sometimes we like what we see. Other times we don't. They are flawed and layered and complicated but most of all BB requires them to lay their personalities bare in front of the nation. And I don't care what anyone says – that takes a certain level of bravery. To be yourself. it's key to the format and key to why children and adults should watch Big Brother. Because in an age of Facebook (and fan forums), BB doesn't just ask – it demands – authenticity.
will: WHERE ARE OUR LIVE FEEDS ?
Alex: Despite popular opinion, live streaming the Big Brother House is no viable – economically and ethically. A lot has changed and not just in Australia. Reduced feeds of the House has been a shift globally. We want you to tune in to Big Brother the TV show, not a fixed camera quad split of a house with people lounging about. The website provides short snippets on the hour between 8am and 11pm and we think this is a good replacement in 2013. To all those who think the contrary, well you can't please everyone.
Behind Big Brother members must remember – you are the hardcore – the purists – I am like you. I want BB on 24/7 all the time everywhere I go. But the fact is that in 8 years we streamed live in Australia practically nobody watched it!
Streaming also carries enormous risk to the production – we all know what happened in 2006 and most will be aware of the scandal that was "streamed" in the US recently. The British series started with streaming this year and has chopped it for all the above reasons.
Brekkie: WHAT'S THE ONE THING YOU'D LIKE TO DO THAT CHANNEL NINE WON'T LET YOU?
Alex: Do a streak at next years State of Origin.
Thanks once again to Goon for arranging this,the many members who submitted questions on our forums and to Alex for taking time out of the busy pre-season build up to answer them.  Remember though Alex – Behind Big Brother is always watching. 
Also on Behind Big Brother