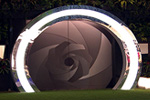 So, ladies and gentlemen, the finale night of the first Big Brother Australia series in 4 years is nearly upon. Who can believe it has been three whole months since the all-seeing being made a triumphant return to our television screens? I know I can't. For me the return of my most loved television franchise to my homeland was something I had wished for since I fell in love with the British counterpart in 2008.  Then on 8th of September last year I finally got my wish. I have to admit I don't think I had ever been so excited for a TV show as I was for the return of BB.
You see, for me there is nothing quite like BB. I'm not sure what exactly draws me to it but I just adore the program. I don't know whether it is the human study aspect of it or the fact that the show is good fun & you can form such a connection to these people. It's kind of like having twelve to sixteen brand-new best friends in your home every night for three months. I really do love it.
When it was first revealed I must admit, I, like a lot of people was skeptical about the reboot.  But I think now, I proudly admit that I was wrong to be so worried about the show and that Channel Nine and Southern Star have given the show the respect and treatment it deserves.  Yes, there was no Live streaming this time round but to a certain extent that has really bothered me. That could be because I've been so busy or the fact I am used of international formats without feeds. But either way, for me this is by far one of the best BBAU series produced.  (I'll post a full series wrap this week, so I'll keep it brief for now.)
I think this series has been great in many ways, not only introducing Australia to some fantastic characters but also stripping away the smut and seediness with which BB is seen by many Australians, to prove that with quality casting and good tasks the smut and crudeness that was once part of the shows fabric, is not needed or warranted.  Because the thing is, at the heart of it, Big brother is a social experiment about people living together and surviving in a smashup of personalities, which is what this series has shown and I hope, proven to Australia. In my eyes, if this was the beginning of a fresh new era for the show I cannot wait to see how they improve from here.
If the series is to comeback next year (as it's rumoured to) I firmly believe that they have a incredibly strong basis to build upon for the future.
That's all for now but I'll be back again soon with my full wrap-up of the past three months happenings in Australia's most famous house.
Til next time,
RK x
Also on Behind Big Brother